i-95 Baltimore Traffic ...
Traffic map by default is centered on the i-95 in Baltimore where it meets the 295 Hwy (Baltimore Washington Parkway) ...
use elevation controls to zoom in/out & around map ... see more i-95 Baltimore Maps and News below ...
Interactive i-95 Baltimore Map ...
Click traffic signs to zoom too traffic info ...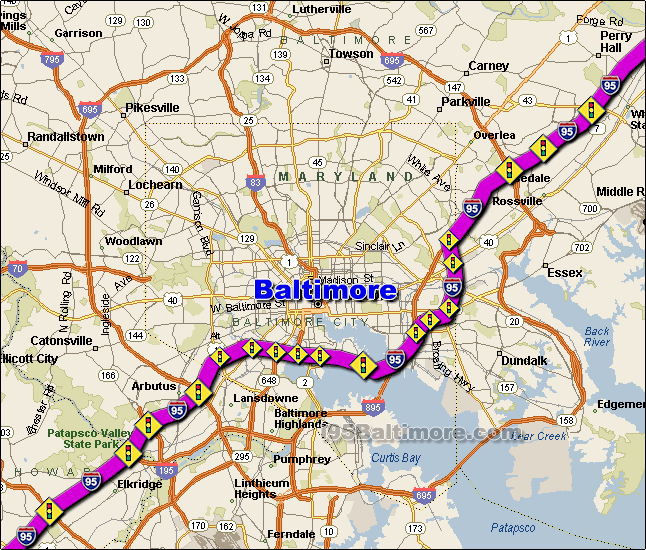 i-95 Baltimore Map ...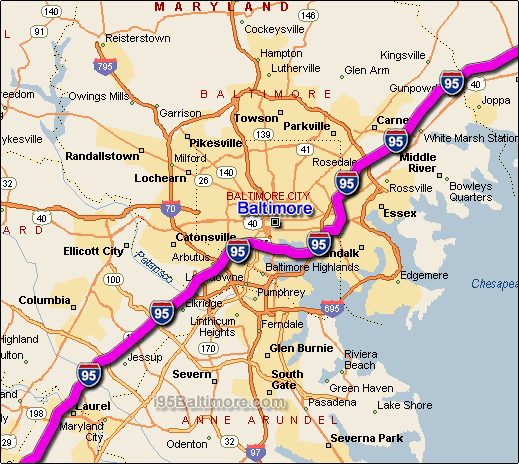 The Interstate 95 in Baltimore, abbreviated "i-95 Baltimore", is the main interstate highway route that travels generally in a north-south direction (actually more of northeast-southwest direction) across the metro Baltimore City Baltimore County areas.

Sections of the i-95 in Baltimore are also called/known as the "John F. Kennedy Memorial Highway".

The map above shows the i-95 in Baltimore (highlighted in pink) where the i-95 traffic travels through the metro Baltimore area... the i-95 is a major transportation route/corridor between the metro Baltimore and Washington DC areas.




Copyright i95Baltimore.com.
Free Real-Time i-95 Baltimore Traffic Maps, i-95 Baltimore Traffic News, and i-95 Baltimore Traffic Reports




i-95 Baltimore Video's ...